Tomorrow is the beginning of Spring Break and I could not be more happy! I am so excited for bright colors, dresses, skirts, and sunny weather! One thing I have been loving lately is finding cute necklaces to go with simple outfits. I am loving the following....
I got this as a wedding/graduation gift and wear it almost everyday! I love it!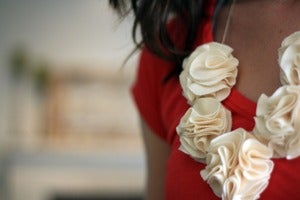 4. This chunky red beaded necklace from Target. I think it would go great with a simple white tee and linen pants!
These are just a few things I am loving right now. What do you have your eye on? Any great handmade jewelry shops or a simple target necklace.
Also, I am linking up with What I Love Wednesday at Lollipops blog!
Hope everyone has a wonderful Wednesday! Don't forget to follow the blog! I will be doing a giveaway over Spring Break!